We offer companies and individuals a range of affordable marketing and exhibition materials. High quality items from

BANNER STANDS, POP UP DISPLAY STANDS, POP UP PODIUMS, A BOARDS, FEATURE ADHESIVE WALLPAPER WITH COMPANY LOGO OR DESIGN, LITERATURE STANDS, EXTERNAL VINYL BANNERS, FEATHER BANNERS to FLYERS & BUSINESS CARDS to make your event stress free and professional.
*

DESIGN SERVICE AVAILABLE *
For our individual clients we offer a host of personalised printing and design of banner stands, banners, posters, small and large scene setters, feature adhesive wallpaper and magic windows etc to make your special
event truly unique!
The Sky's really is the limit ...
Want a different colour, image/theme/logo ... different ANYTHING to coordinate with your exhibition/party/wedding/celebration/
event theme etc NOT A PROBLEM...

Just let us know!
The

ONLY

limitation is your

IMAGINATION!

All sizes and any design is possible, email us an idea and size for a quote!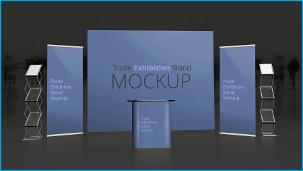 angela.egdisplay@btinternet.com
01787 226951
07983118844 / 07983118877
ABOUT US
We are a large professional format printing company based in Essex with over 20 years experience in the graphic design industry. Unlike other smaller companies we run 4 printers in-house which means that our production is never stopped even if one is temporarily out of service. We offer fine art quality printing (1440dpi) using the very latest 8 colour Vivara light fast inks and latest digital technology.
OUR PRODUCTS
Posters/Paper Banners:
Printed on to heavy weight 220gsm photo satin or gloss paper and despatched in strong reinforced postal tubes.
Interior/Exterior Banners:
Printed on 450gsm exterior grade Vinyl PVC for banners which are hemmed and eyeleted ready for easy installation. Alternatively these can be supplied with pole pockets (extra charge) or trimmed to size.
Roller Banner Stands:
Printed on high quality stoplight 180 micron or 240 micron PVC (depending on size of stand). Using UV light fast inks. Our banner stands are fade and water resistant and will not curl at the edges like cheap alternatives. Our banner stands also come with a one year manufacturer guarantee as standard and can, if required, be updated easily with a new graphics (subject to ability). They also always come complete with carry case!
Pop Up Counters/Podiums:
Printed on 300 micron stoplight PVC using UV light fast inks and then sealed to front with Matt Seal or Gloss Seal subject to preference (Matt Seal dulls down colours and Gloss Seal enhances the colours).
Feather & Quill Flag Banners:
These top quality single or double sided flags come with various fitting options including wall mounting fixings and ground spike etc. to suit your requirements.
Flyers & Leaflets:
Huge range of media available including single/ double sided and various sizes from A6 postcards, A5, A4 etc.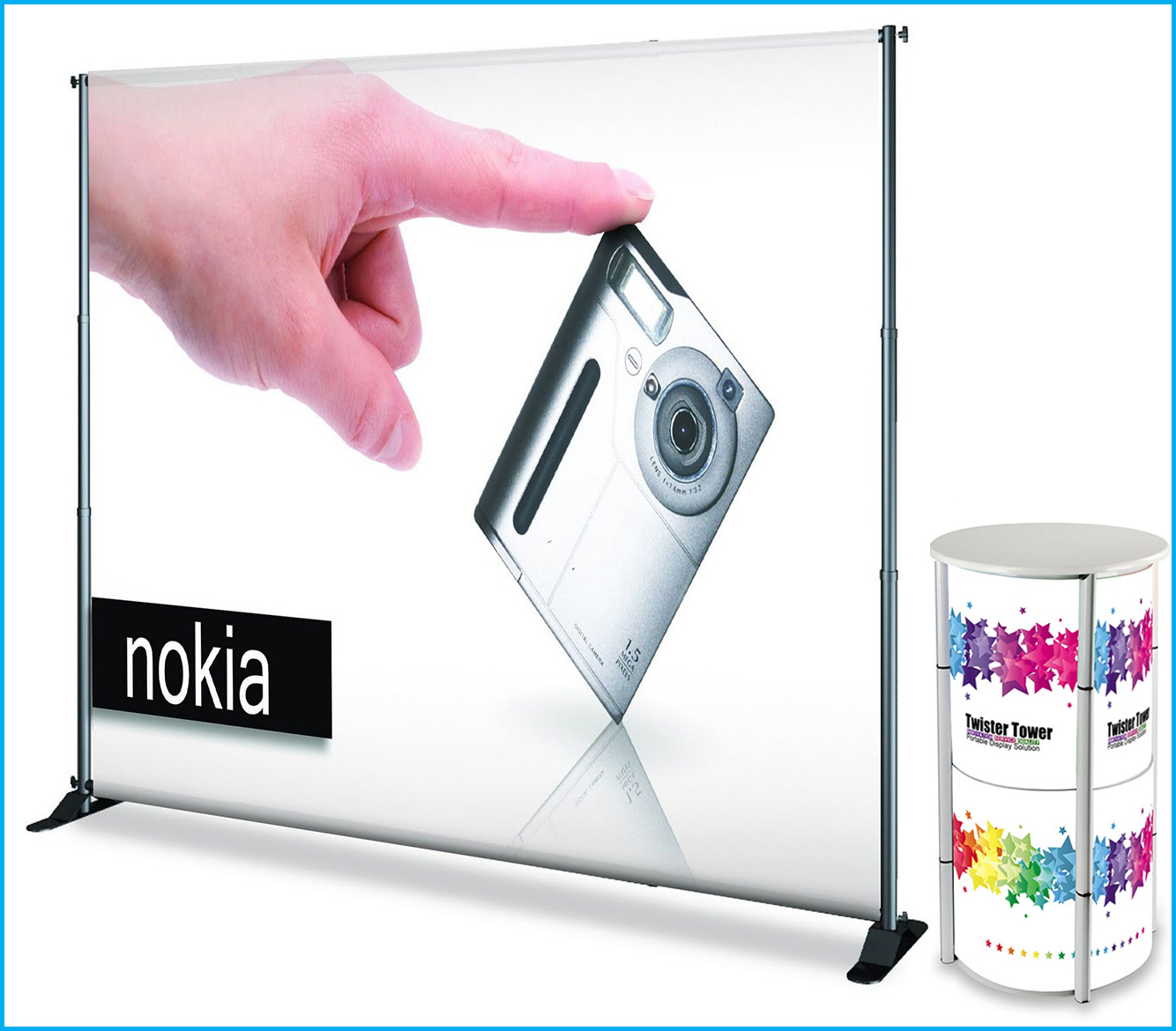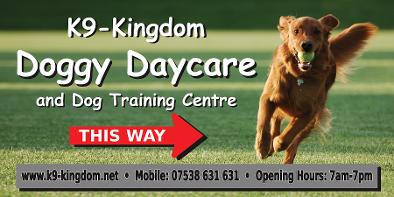 DELIVERY:
Roller Banner Stands & Pop Up Counters can be sent either Next Working Day Delivery* or a more cost effective 3-5 Working Day Courier Delivery depending on the individual's requirements.
Posters and Interior Paper Banners are supplied in postal tubes and can be sent Next Working Day Delivery via Signed Courier or Hermes Delivery (3-5 working days) as standard.
Exterior PVC Vinyl Banners are subject to a slightly longer production time of 2-3 working days due to the additional drying time and finishing involved. They are sent on a priority next working day recorded service due to this.
Feather & Zoom Flags are subject to a standard delivery time of 5 working days from receipt of artwork. These are sent via a trackable courier service. Express Service available at a supplement.
Pop Up Display Systems are subject to a delivery time of 5-7 working days from receipt of artwork and are sent by a Signed Courier Delivery as standard.
PLEASE NOTE: SATURDAY & SUNDAY AND BANK HOLIDAYS ARE NOT WORKING DAYS

NEXT DAY DELIVERY IS ONLY AVAILABLE IF PAYMENT AND PRINT READY ARTWORK IS RECEIVED BY 11.30am. OR IF THE ARTWORK IS BEING DESIGNED BY US, THE SIGN OFF IS RECEIVED BY 11.30am. NEW ARTWORK OBVIOUSLY TAKES TIME SO PLEASE ALLOW UP TO 24 HOURS FOR RECEIPT OF PROOF.

FRIDAY DESPATCHES ARE RECEIVED ON THE NEXT WORKING DAY WHICH IS MONDAY. SATURDAY DELIVERIES ARE AVAILABLE AT A SUPPLEMENT - PLEASE CONTACT FOR FURTHER INFORMATION.
PHOTOS:
The better the quality the photograph you supply the better the quality of your end printed banner and it really is best to choose a sharp, clear original photo 2mb or above and where the person(s) take up most of the whole photograph rather than just a small area in the middle i.e. more background than person. Photographs from a good quality digital camera are preferable as undoubtedly they will provide the best quality print. Images from Facebook or similar are usually very poor quality and reduced in size to go onto the website therefore these are NOT possible to use for our products.
Similarly photos from mobile phones do vary considerably in quality and whilst they may look good on a small phone screen in reality when looked at on a computer they may be of poor quality - do not just send photos from phones without first checking their quality on a computer screen at full size (100%) as otherwise you may be disappointed.
You can upload your photos during the order process

or via a file share website such as

www.dropbox.com

or similar sharing the files with our email address above.

DISCLAIMER:

Please be advised if you are supplying the artwork, logos, images or photos we can only print what we have been supplied and request that the highest quality image files are sent for use as these affect the quality of the final product! A proof is however always sent prior to printing for approval - any queries please feel free to email. It is your responsibility to ensure the proof is accurate and all spelling/content is correct.

Metallic colours cannot be printed - some items shown have an appearance of being gold or silver but ARE NOT metallic.

CMYK/RGB NOTES:

If you design in RBG and convert to CMYK, no matter what conversion settings you use, your colours will shift when converted to CMYK for printing purposes. RGB has a much wider colour gamut than CMYK. There are millions more colours available on screen than can be mixed using four inks.

Any out of gamut colours will be estimated to something that is within the printable range. If you are using bright colors on screen, specifically greens, blues and purples, you are probably going to be disappointed. This applies whether you are converting final images in Photoshop or exporting a PDF with print settings.

RGB is colored light, CMYK is coloured ink. Any screen shows RGB because it has to. There is no ink in your monitor. However, a good calibrated monitor will show simulated CMYK. Working in CMYK mode will not display electric blues or radioactive greens. The final printed result will be much closer to what you see on screen.


Therefore it is essential your artwork is supplied in CMYK format as we cannot be held responsible for colour changes if we are required to convert to CMYK to print your artwork.